a.
Form the given information, a patient of genotype NF1+/NF1- ­has 20 independent tumors in different areas of the skin. Samples are collected from the normal, noncancerous cells as well as from each of the 20 tumors of this patient. These samples are analysed by gel electrophoresis technique. There are three types of tumors found in this patient after the analysis. Mitotic crossing-over can develop individuals in which different cells have different genotypes. It has major direct as well as indirect consequences on human health. Therefore, mitotic recombination can cause these types of tumors in this patient.
b.
Genetic map:
It is given that all three types of tumors are homozygous for NF1- allele. There are variant forms of four different proteins found. These proteins are encoded by genes that present on the same chromosomes as NF1. Each of these proteins has a slow and fast form that is encoded by different alleles.
Pictorial representation: Fig.1 represents the genetic map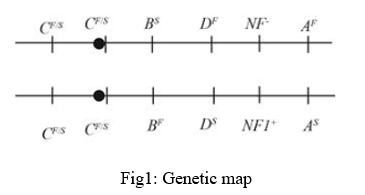 The extracts of normal tissues have slow and fast variants for all four proteins. In the extracts of cancerous cells, 12 tumors (tumor type 1) had only the fast variants of proteins A and D. Proteins B and C had both the variants; 6 tumors (tumor type 2) had only fast variant of protein A but proteins B, C, and D had both the variants. The remaining 2 tumors (tumor type 3) extracts had only fast variants of protein A, only slow variant of protein B, protein C had both variants, and protein D had only the fast variant. The mitotic recombination leads to genes to become homozygous that are located farther from the centromere. The genes that are present between the recombination event and the centromere or on the other side of the centromere stay heterozygous. It can be observed that all thr...