Concept explainers
A mixture of ideal gases has the following composition by mass :
Oxygen(60%), Carbon dioxide(20%),Nitrogen(20%)
Calculate the Characteristic gas constant of the mixture in J/kg-K.
Expert Solution
Step 1
We can calculate the Characteristic gas constant for mixture of gasses by using the following formula.

Step 2
Let Oxygen be gas1, Carbon dioxide be gas2 and Nitrogen be gas3.
Characteristic gas constant for gases 1,2 and 3 is calculated as follows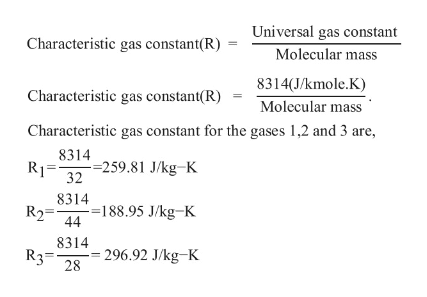 Trending nowThis is a popular solution!
Step by stepSolved in 4 steps with 3 images
Knowledge Booster
Learn more about
Need a deep-dive on the concept behind this application? Look no further. Learn more about this topic, chemical-engineering and related others by exploring similar questions and additional content below.
Recommended textbooks for you