Step-by-step procedure to obtain the mean and standard deviation using Excel.
In Excel sheet, enter Data.
In Data, select Data Analysis and choose Descriptive statistics.
In Input Range, select Data.
click Labels in First Row.
Select Summary Statistics.
Click Ok.
Output using Excel is given below: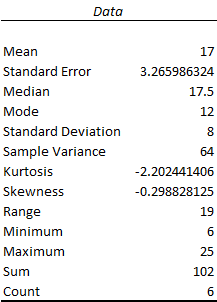 From the output, the mean is 17, and the standard deviation is 8.
...