Technology. In Exercises 9–12, test the given claim by using the display provided from technology. Use a 0.05 significance level. Identify the null and alternative hypotheses, test statistic, P-value (or range of P-values), or critical value(s), and state the final conclusion that addresses the original claim.
Body Temperatures Data Set 3 "Body Temperatures" in Appendix B includes 93 body temperatures measured at 12AM on day 1 of a study, and the accompanying XLSTAT display results from using those data to test the claim that the mean body temperature is equal to 98.6°F. Conduct the hypothesis test using these results.
For Exercise 10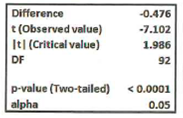 Students who've seen this question also like:
Want to see this answer and more?
Experts are waiting 24/7 to provide step-by-step solutions in as fast as 30 minutes!*
*Response times may vary by subject and question complexity. Median response time is 34 minutes for paid subscribers and may be longer for promotional offers.