Interpreting Displays. In Exercises 5 and 6, use the results from the given displays.
Treating Carpal Tunnel Syndrome  Carpal tunnel syndrome is a common wrist complaint resulting from a compressed nerve, and it is often the result of extended use of repetitive wrist movements, such as those associated with the use of a keyboard. In a randomized controlled trial, 73 patients were treated with surgery and 67 were found to have successful treatments. Among 83 patients treated with splints, 60 were found to have successful treatments (based on data from "Splinting vs Surgery in the Treatment of Carpal Tunnel Syndrome," by Gerritsen et al., Journal of the American Medical Association, Vol. 288, No. 10). Use the accompanying StatCrunch display with a 0.01 significance level to test the claim that the success rate is better with surgery.
StatCrunch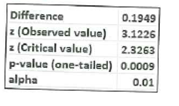 Students who've seen this question also like:
Want to see this answer and more?
Experts are waiting 24/7 to provide step-by-step solutions in as fast as 30 minutes!*
*Response times may vary by subject and question complexity. Median response time is 34 minutes for paid subscribers and may be longer for promotional offers.