Concept explainers
Hello. I need help with this question on Advanced Math topic. Thank you.

Expert Solution
Step 1
We first consider the definition of Bessel function of order n and differentiate it w.r.t. x.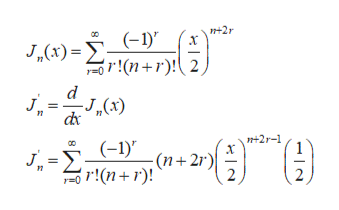 Step 2
Let us now multiply both sides by x, in the above derivative of Jn. After this we add the powers of two (x/2) terms. This will help us change the power of (x/2) back to its original value.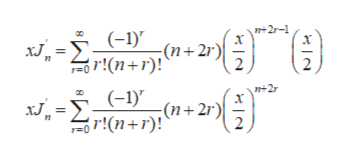 Step 3
Next, we split the summation in to two parts by opening the brackets of the term (n + 2r). By doing this, we observe that the first summation is the definition of Jn. In the second summation, we cancel out r from numerator and denominator.

Trending nowThis is a popular solution!
Step by stepSolved in 6 steps with 6 images
Knowledge Booster
Learn more about
Need a deep-dive on the concept behind this application? Look no further. Learn more about this topic, advanced-math and related others by exploring similar questions and additional content below.
Recommended textbooks for you