Here, X follows the normal distribution with mean 14 years old and a standard deviation of 2.7 years. Let X be the age at death of a randomly selected indoor cat.
Compute the middle 30% of indoor cats' age of death lies between the two numbers:
First finding the z-score for the 35 percentiles.
Therefore,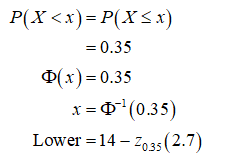 Using the standard normal table, choose the corresponding row and column value nearer to the probability of 0.35. the z-score corresponding value nearer to 0.35 is -0.39.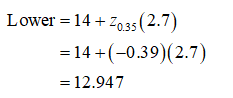 ...