Concept explainers
DNA typing is used to compare evidence DNA (E) left at a crime scene to two suspects
(S1 and S2). Suspect 1 is excluded by the evidence, but suspect 2 remains included. What is
the frequency of suspect 2's genotype if the allelic frequencies in the population are f(A1) =
0.1, f(A2) = 0.2, and f(A3) = 0.7, and the population is at Hardy–Weinberg equilibrium?
I do not need the answer, just HOW you do it. I got 0.02 as the answer, but I know that isn't right.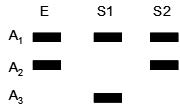 Expert Solution
Trending nowThis is a popular solution!
Step by stepSolved in 5 steps with 1 images
Knowledge Booster
Learn more about
Need a deep-dive on the concept behind this application? Look no further. Learn more about this topic, biology and related others by exploring similar questions and additional content below.
Recommended textbooks for you