c). From the provided information,
The sample size (n) = 15
Probability of successes (p) = 0.30
The process will follow binomial distribution with probability distribution function as follow:

The mean value can be obtained as: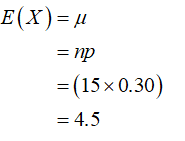 The required probability that all 15 will get the type of book they want from current stock (probability at most 10 and at least 5 people want new book) can be obtained as:

Thus, the required probability is 0.484.
...