Van der Waals radius is defined as the distance in between the two nuclei of atom of crystalline lattice.
It is also known as the non-bonding atomic radius which is the half of the distance between two nuclei.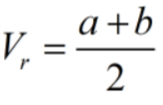 Vr: Van der Waals radius.
a&b: distance of nuclei from centre of two atoms.
It can also be calculated from the 'b' value as shown below-

NA: Avogadro's number
b: Van der Waals constant from given table.
...