Atomic radius of the  anionic atom is one of the factor which influences the acidity of the substance.
Both oxygen and sulfur belong to the same group that is VIA group of the periodic table.
As we go down from top to bottom of the periodic table, atomic size increases.
So, sulfur atomic size is larger than oxygen.
Due to  its small size O-H bond is stronger than S-H bond.
The bond distance in H2O and H2S is as shown below:

and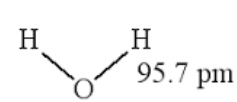 So, S-H bond breaks easily than O-H bond and releases H+ ion more rapid...