Peacock Butterfly Predator Defenses The photographs below represent the experimental and control groups used in the peacock butterfly experiment discussed in Section 1.6. See if you can identify the experimental groups and match them up with the relevant control group(s). Hint: Identify which variable is being tested in each group (each variable has a control).

A Wing spots painted out

B Wing spots visible; wings silenced

C Wing spots painted out; wings silenced

D Wings painted but spots visible

E Wings cut but not silenced

F Wings painted, spots visible; wings cut, not silenced
Peacock butterfly experiment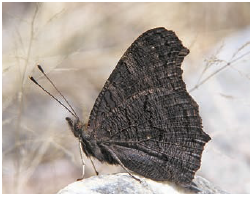 A With wings folded, a peacock butterfly resembles a dead leaf, so it is appropriately camouflaged from predatory birds.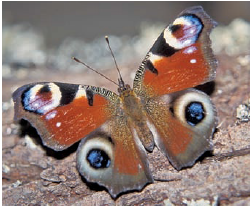 B When a predatory bird approaches, a butterfly flicks its wings open and closed, revealing brilliant spots and producing hissing and clicking sounds.
C Researchers tested whether the wing-flicking and sound-making behaviors of peacock butterflies affected predation by blue tits (a type of songbird).
| | |
| --- | --- |
| Experimental Treatment | Number of Butterflies Eaten |
| Wing spots concealed | 5 of 10 (50%) |
| Wings silenced | 0 of 8 (0%) |
| Wing spots painted out and wings silenced | 8 of 10 (80%) |
| No treatment | 0 of 9 (0%) |
*Proceedings of the Royal Society of London, Series B (2005) 272: 1203–1207.
D The researchers painted out the spots of some butterflies, cut the soundmaking part of the wings on others, and did both to a third group; then exposed each butterfly to a hungry blue tit for 30 minutes. Results support only the hypothesis that peacock butterfly spots deter predatory birds.
FIGURE 1.12 Testing the defensive value of two peacock butterfly behaviors.