Given information:
To estimate ages of trees, forest rangers use a linear model that relates tree diameter to age. The model is useful because tree diameter is much easier to measure than tree age (which requires special tools for extracting a representative cross-section of the tree and counting the rings). To find the model, use the data in the table, which were collected for a certain variety of oaks.
Calculation:
Using a calculator, we find the following regression line that models the data in the form of,
Using regression calculator,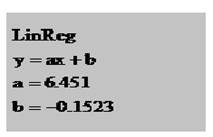 Substituting and , we get,
Hence, the linear function that models the data is .