Find the valency for carbon (C), hydrogen (H) and chlorine (Cl) atoms in C2H5Cl

Carbon is tetravalent whereas both chlorine and hydrogen atoms are monovalent.  In the given compound, there are two carbon atoms, one chlorine atom and five hydrogen atoms.  Carbon atom is able to form four chemical bonds with other atoms. Similarly, chlorine and each hydrogen atoms are bonded by a single chemical bond.
Arrange the atoms for the constituational isomer C2H5Cl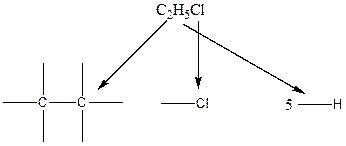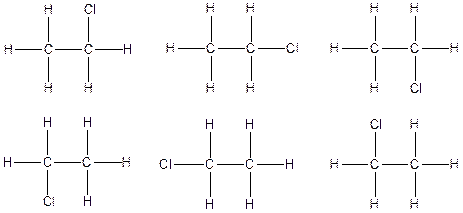 Carbon atom has the highest valency in the given compound. So, it occupies the centered position by the formation of a single carbon-carbon bond. In the case of hydrogen and chlorine atoms, they occupy the peripheral positions.
The chlorine atom can attach in any position of the six available positions of two carbon atoms. The resulting six structures are identical.