Schedules for unfinished jobs and completed jobs
Waddell Equipment Company uses a job order cost system. The following data summarize the operations related to production for April 20V t. the first month of operations:
a.Materials purchased on account, $36,000.
b.Materials requisitioned and factory labor used:


c. Factory overhead costs incurred on account, $6,000.
d.Depreciation of machinery and equipment, $1,550.
e.The factory overhead rate is $40 per machine hour. Machine hours used: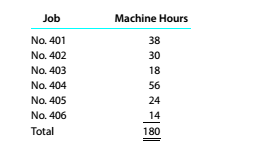 f. Jobs completed: 401, 402, 403, and 405.
g.Jobs were shipped and customers were billed as follows: Job 401 $22,750, Job 402 $16,600, Job 403 $8,400.
Instructions
Prepare a schedule of jobs sold in April. What account does this schedule support for the month of April?