Effect of Paternal Grandmother's Food Supply on Infant Mortality Widely available historical data on periods of famine show that before the industrial revolution, a failed harvest in one autumn often led to severe food shortages the following winter. Retrospective studies have correlated infant mortality with the abundance or food during a grandparent's child hood. FIGURE 10.11 shows results from one or these studies.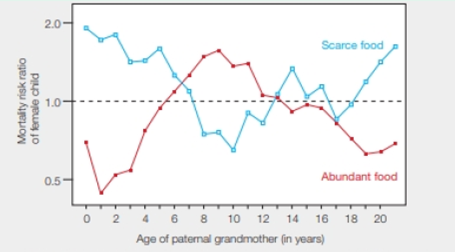 FIGURE 10.11 Relative risk of early death of female child, correlated with the age at which her paternal grandmother experienced a winter with a food supply, that was scarce (blue) or abundant (red) during childhood. The dotted line represents no difference in risk of mortality. A value above the line means increased risk; one below the line indicates reduced risk.
There was no correlation between early death of a male child and eating habits of his paternal grandmother, but there was a strong correlation with the eating habits of his paternal grandfather. What does this tell you about the location of epigenetic changes that gave rise to these data?