Interpretation: To identify the element or ion on the basis of given orbital diagram.
A ground state ion, charge of -1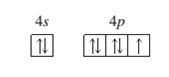 Concept Introduction:
When the electrons are arranged in the increasing order of energy in the orbitals of an atom is known as electronic configuration of that atom. Atomic number of an atom in its neutral state is equal to the number of electrons which is unique for every element.