During the 20th century, the global average temperature in the graph, the x-axis represents the period (t) between 1900 and 2000, and the y-axis represents the global average temperature (T) in degree Celsius.
Draw the vertical line from the year 1950 to meet the graph of global average temperature during the 20th century. And then, draw the horizontal line towards the y-axis as shown below in Figure 1.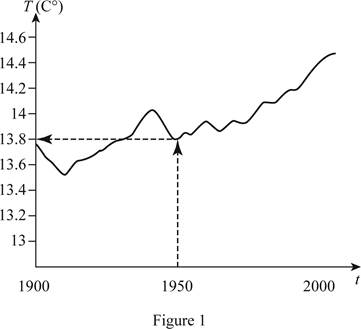 From Figure 1, it is found that the temperature in 1950 is below 14°C and approximate to 13.8°C. Therefore, the temperature was about13.8°C.