Definition:
In a right triangle, the tangent ratio for an acute angle is the ratio .
Given:
The right triangle shown below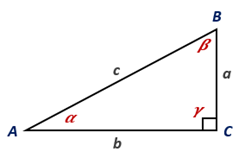 Calculation:
For the angle β, opposite side = b and adjacent side = a.
By the definition, tan β=
tan β =
Conclusion:
The value of tan β in terms of a, b, and c is tan β =.