Interpretation:
To draw a structural formula for at least Bromo-alkene with the molecular formula that does not show cis-trans isomerism.
Concept Introduction:
Isomers are the compounds that have same molecular formula but different structural formula.
Cis-trans isomerism arises in the compounds when there is a difference in the orientation of the two same groups.
When two same groups are along the same side of the C-C bond it is called as cis isomer, but when the same groups lie opposite to each other along the C-C bond. It is said to be trans isomer.
Example-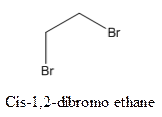 and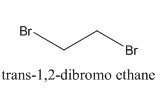 are cis-trans isomers.