Differential analysis report for a discontinued product
A condensed income statement by product line for Garcia Beverages Inc. indicated the following for Melon Cola for the past year: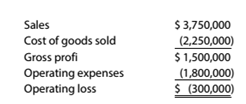 It is estimated that 20% of the cost of goods sold represents fixed factory overhead costs and that 35% of the operating expenses are fixed. Since Melon Cola is only one of many products, the fixed costs will not be significantly affected if the product is discontinued.
a.Prepare a differential analysis report for the proposed discontinuance of Melon Cola.
b.Should Melon Cola be retained? Explain.