Differential analysis report for sales promotion proposal
Rocket Shoe Company is planning a one-month campaign for August lo promote sales of one of its two shoe products. A total of $500,000 has been budgeted for advertising, contests, redeemable coupons, and other promotional activities. The following data have been assembled for their possible usefulness in deciding which of the products to select for the campaign.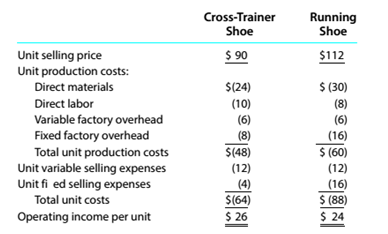 No increase in facilities would be necessary to produce and sell the increased output. It is anticipated that 25.000 additional units of cross-trainer shoes or 18,000 additional units of running shoes could be sold without changing the unit selling price of either product.
Instructions
The sales manager has tentatively decided to promote cross-trainer shoes, estimating that operating income will increase by $150,000 ($26 operating income per units for 25,000 units, less promotion expenses of $500,000). The manager also believes that the selection of running shoes will decrease operating income by $68,000 ($24 operating income per unit for 18,000 units, less promotion expenses of $500,000). State briefly your reasons for supporting or opposing the tentative decision.