Interpretation:
Change in solubility of in terms of the intermolecular forces has to be described.
Concept introduction:
In simple words, Intermolecular forces are termed as the forces acting "between molecules" that is components of a substance. Intramolecular forces are the forces that operate "within a molecule". The prefix "inter" mean "among" and "intra" mean "within".
Atoms do combine to form a molecule. Within a molecule, the atoms are held together by intramolecular forces. Many molecules are formed by such instance. Matter is composed of many such innumerable molecules which are held together by intermolecular forces. There are many types of intermolecular forces which is summarizes as follows,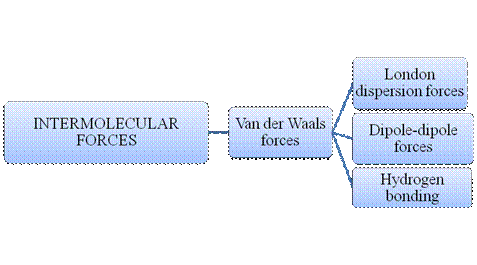 Intramolecular forces are nothing but the type of bonding between them. Ionic compounds have electrostatic force of attraction, the strongest one. Covalent bonds are of two types, that is polar and non-polar depend upon the polarity of the atoms. Metallic bond is formed between the metal atoms of an element.
Intermolecular forces are Van der Waals forces. They are weak and have two types viz., London dispersion forces, dipole-dipole forces and hydrogen bonding. Hydrogen bonding is relatively the strongest one.