Skin Color Survey of Native Peoples In 2000, researchers measured the average amount of UV radiation received in more than fifty regions of the world, and correlated it with the average skin reflectance of people native to those regions (reflectance is a way to measure the amount of melanin pigment in skin: Skin with more melanin is darker, so it reflects less light). Some of the results of this study are shown in F1GURE 14.1.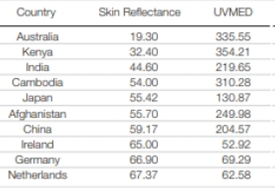 FIGURE 14.1 Average skin reflectance of people native to ten countries correlated with regional incident UV radiation. Skin reflectance measures how much light of 695-nonometer Wavelength is reflected from skin; UVMED is the annual average UV radiation received at Earth's surface.
According to these data, how does skin color of human populations correlate with the amount or UV radiation incident in their native regions?