Interpretation:
The reason as to why the qualification is necessary in stating the statement "the temperature and amount of gas remain the same" is to be stated.
Concept Introduction:
Boyle's law states that if the temperature and the moles of gas remain constant, then the pressure exerted by the gas is inversely proportional to the volume occupied by the gas in that space.
The mathematical statement of Boyle's law is,
Or
The Boyle's law can also be expressed graphically as: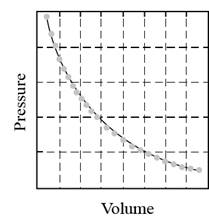 Figure 1.