Interpretation:
The hydronium ion concentration of the solution has to be determined and the acid or basic character has to be explained.
Concept introduction:
An acid was defined as a substance whose turns blue litmus to red, water solution tastes sour and neutralizes the bases.
A base was defined as a substance whose turns red litmus to blue, aqueous solution tasted bitter and neutralizes acids.
Bronsted –Lowry definitions:
A Bronsted –Lowry acid is a proton donor, it donates a hydrogen ion,
A Bronsted-Lowry base is a proton acceptor, it accepts a hydrogen ion

Bronsted –Lowry conjugated acid-Base pairs:
When an acid is dissolved in water, the acid donates a proton to water to form a new acid (conjugated acid) and a new base (conjugated base).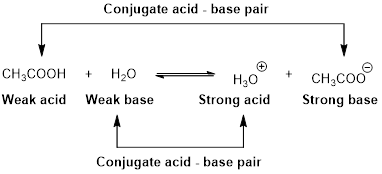 The pair of an Acid –Base differs by a proton called conjugated Acid-Base pair.