How To 16-1 Plot Measures on a Growth Chart
You can assess the growth of infants and children by plotting their measurements on a percentile graph. Percentile graphs divide the measures of a population into 100 equal divisions so that half of the population falls at or above the 50th percentile and half falls below. Using percentiles allows for comparisons among people of the same age and gender.
To plot measures on a growth chart, follow these steps:
Select the appropriate chart based on age and gender. For this example, use the accompanying chart, which gives percentiles for weight for girls from birth to 36 months. (Appendix E provides other growth charts for both boys and girls of various ages.)
Locate the infant's age along the horizontal axis at the bottom of the chart (in this example, 6 months).
Locate the infant's weight in pounds or kilograms along the vertical axis of the chart (in this example, 17 pounds or 7.7 kilograms).
Mark the chart where the age and weight lines intersect (shown here with a red dot), and follow the curved line to find the percentile.
This 6-month-old infant is at the 75th percentile. Her pediatrician will weigh her again over the next few months and expect the growth curve to follow the same percentile throughout the first year. In general, dramatic changes or measures much above the 80th percentile or much below the 10th percentile may be cause for concern.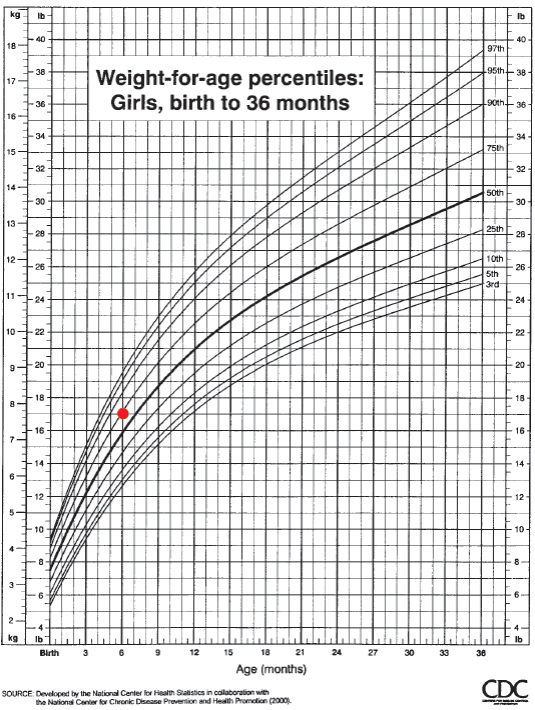 TRY IT Determine the percentile for a 12-month-old girl who weighs 21 pounds.