Interpretation:
The following by using the given  pH plot has to be determined.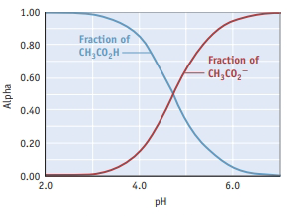 Consider the point where the two lines cross. The fraction of acetic acid in the solution is , and so is that of acetate ion. That is the solution i half acid and half conjugate base. Their concentrations are equal. At this point, the graph shows the pH is . Explain the pH at this point is .
Concept introduction:
The given plot shows how the fraction of acetic acid solution.
It changes as the pH increases (blue curve).(The red curve shows how the fraction of acetate ion, changes as the pH increase).Alpha plots are another way of viewing the relative concentrations of acetic acid and acetate ion as a strong base is added to a solution of acetic acid in the course of a titration.