The galvanic cell is sketched as follows: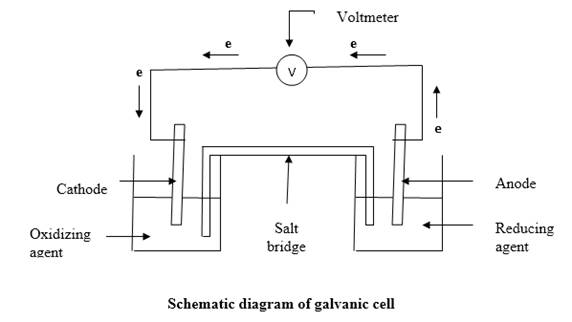 When reducing agent and oxidizing agent mixed together in a container, electron transfer occurs. But chemical energy generated by this cannot be used for any work. This can be achieved by separating the reducing agent and oxidizing agent and let the electron transfer happen through a wire. So electrons removing from the reducing agent will travel through the wire to the oxidizing agent. The electric current generated by the electron flow through the wire can be directed through an electronic device. To keep the net charge of each container zero, the two solutions are connected by a salt bridge which filled with strong electrolyte.
In the figure , the beaker in the left contains the oxidizing agent, MnO42-, which undergoes reduction by accepting electrons and forms Mn2+. The beaker in the right contains the reducing agent, Fe2+ which undergoes oxidation by removing electrons and converts into Fe3+.
According to the figure , electrons flow only from reducing agent to the oxidizing agent. this will build up a negative charge in the left container and a positive charge in the right container. This will create a charge separation and to create charge separation large amount of energy is needed. So, no electron flow occurs under these conditions. This problem has been solved in the figure . The solutions have been connected through a salt bridge without mixing the two solutions. Therefore the electrons from the reducing agent will flow through the wire to the oxidizing agent and the ions in the aqueous solution flows from one container to the other through salt bridge keeping the net charge of the each container zero.