Hawaiian Honeycreeper Phylogeny The po'ouli (Melamprosops phaeosoma) was discovered in 1973 by a group of students from the University of Hawaii. Its membership in the Hawaiian honeycreeper clade had been controversial, mainly because its appearance and behavior are so different from other living honeycreepers. It particularly lacked the "old tent" odor characteristic of other honeycreepers.
In 2011, Heather Lerner and her colleagues deciphered phylogeny of the 19 Hawaiian honeycreepers that were not yet officially declared to be extinct at the time, including the po'ouli. The researchers sequenced mitochondrial and nuclear DNA samples taken from the honeycreepers, and also from 28 other birds (outgroups). Phylogenetic analysis of these data firmly establishes the po'ouli as a member of the clade, and also reveals the Eurasian rosefinch as the clade's closest relative (FIGURE 18.10).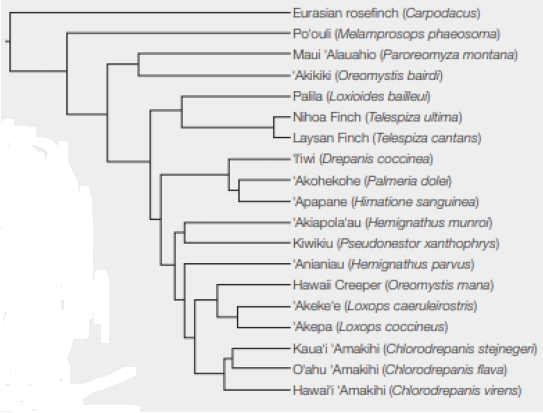 FIGURE 18.10 Phylogeny of Hawaiian honeycreepers. This cladogram was constructed using sequence comparisons of mitochondrial DNA (whole genome), and 13 nuclear DNA loci of 19 Hawaiian honeycreepers and 28 other finch species.
Which species is more closely related to the Palila (Loxioides bailleui): the Tiwi (Vestiaria coccinea) or the Maui 'Alauahio (Paroreomyza montana)?