Given information:
The quadratic equation .
Graph:
The graph of the quadratic equation can be sketched in the cartesian plane,
Consider the quadratic equation, .
Now put the values of in the equation to find the values of or to find the real roots of with the help of .
Rewrite the equation:
Take power 2 both sides:
Solve the equation by replace the value of as zero.
Now take in the equation
From here the value of is:
Observe that as the value of increases there is slightly decrement in value of .
Steps to plot the graph of the equation with the help of graphing utility are as follows:
Step 1: Press key.
Step 2: Use the down arrow key to reach option.
Step 3: Press key.
Step 4: Press key.
Step 5: Enter the function .
Step 6: Press key. Change the settings to
For better view of graph.
Step 8: Press key.
The result obtained on the screen is provided below,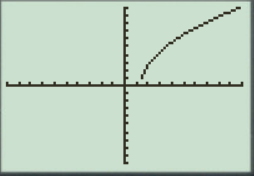 Interpretation:
The equation of the function represents a parabola.
The parabola opens downwards.
The intercepts are the points on where the graph of the equation touches .
At -axis is always zero.
Recall that the graphical approach to solve the equation simultaneously.
Therefore, in the equation, there is no intercepts.
Therefore, the equation is symmetric about the axis Initially the graph of the function increases when increase the value of ,the graph is a parabola shaped graph.