The geometric figure of the situation is shown below,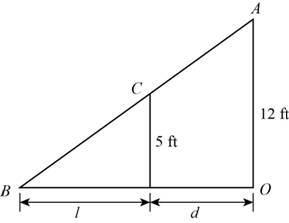 Figure (1)
In triangle AOB as shown in Figure (1), OA is height of street lamp, CD is height of woman, L is the length of shadow of woman and d is the distance of woman from base of street lamp.
Height of woman is . and height of street lamp is
Triangles and are similar and corresponding sides of similar triangles are in same proportion.
Mathematically,
Substitute 5 for CD, 12 for AO, L for BD and BO for in above equation.
Subtract from both the sides of above equation.
Thus, the function that models in terms of is .