Given information:
The car travelling along a highway shaped like parabola with its vertex at the origin as shown in figure (1).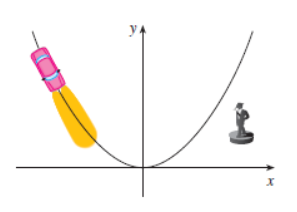 Figure (1)
Calculation:
The parabola has the vertex at and has -axis as its axis.it shows that the parabola is in the upper half plane and the equation of the parabola will be with .
The point is on the parabola.
So, the equation of parabola is.
Assume that the headlight of the car illuminates the statue at the point of coordinate .
The coordinate of the statue is , the tangent line to the parabola at point passes through the point .
Calculate the slope of the tangent line at any point is.
Theslope of the tangent line at is.
The equation of tangent line is.
It passes through the point .
As we know that, .
Substitute for above linear equation.
The minus sign is the right one, and the other one corresponds to when the taillights of the car would be illuminating the statue.
The value of will be.
Therefore, the point on the highway will the car's headlights illuminate the status at east and north to the origin.