Given:
The given figure is,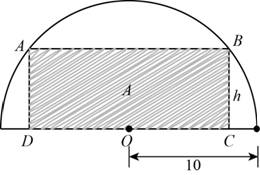 Figure (1)
Here is rectangle with height and is centre of semicircle with radius 10.
Calculation:
Join the points and in the given Figure (1) with a line to form a triangle as shown in Figure (2) below.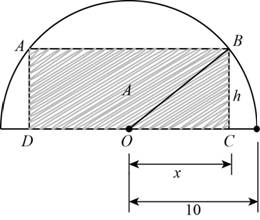 Figure (2)
In triangle , is , is radius of semicircle i.e. 10 units.
Apply Pythagorean theorem in triangle and calculate x in terms of h.
Substitute 10 for , x for and h for in above equation.
Add to both the sides of above equation.
Take square root of above equation.
The formula to calculate area of rectangle is,
Substitute for length and h for width in above equation.
Substitute  for x in above equation.
The model that function area of rectangle in terms of its height is here h varies between .