T-account:
Trial balance is the summary of accounts, and their debit and credit balances at a given time.  It is usually prepared at end of the accounting period.  Debit balances are listed in left   column and credit balances are listed in right column.  The totals of debit and credit column should be equal.  Trial balance is useful in the preparation of the financial statements.
Justification for the incorrect options of a, c, d and e:
94,100 debit, 133,300 credit, 54,900 credit and 133,300 debit are not the balance of the T-account. Therefore, these are incorrect options.
Justification for the correct option b:
Balance in T-accounts:
Each side (debit and credit) is added separately and the totals (footings) are recorded. Now, find out the difference between large footing and small footing and then place the balance on the large footing side.
Balance of T-account is calculated as follows: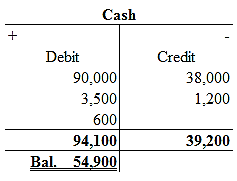 Therefore, according to the above explanation, option b. 54,900 debit is the correct answer and the other options of a, c, d and e are incorrect.