Theorem used: The Squeeze Theorem
"If when x is near a (except possibly at a) and then ."
Proof:
It is trivial that, the value of does not exist.
Thus, the limit of the function does not exist.
Apply the Squeeze Theorem and obtain a function f smaller than and a function h bigger than such that both and approaches 0.
Since the cosine function is lies between and 1, .
Any inequality remains true when multiplied by a positive number. Since for all x, multiply each side of the inequalities by .
When the limit x approaches zero, the inequality becomes,
Graph:
Use the online graphing calculator to draw the graph of the function as shown below in Figure 1.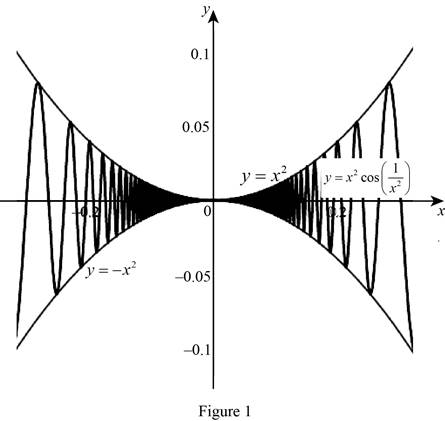 From Figure 1, it is observed that and .
Let , and .
If when x approaches 0 and , then by Squeeze Theorem the limit of the function is zero.
That is, .
Hence the required proof is obtained.