Given:
The given figure is,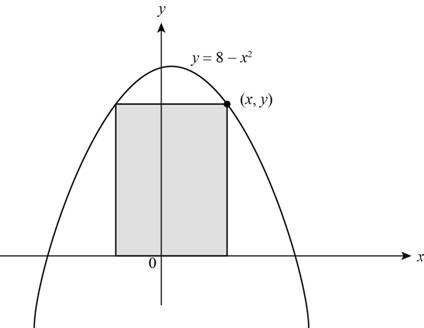 Figure (1)
Calculation:
Area of rectangle is,
From Figure (1) length is and width is .
Substitute for and y for w in equation (1)
Vertices of the rectangle are on .
Summarize the information in a table as shown below.
| | |
| --- | --- |
| In Words | In Algebra |
| Area | |
| Length of side rectangle. | |
| Height of the rectangle | |
Use the information in the table and model the area in terms of .
The function that models the area of given rectangle is,
Sketch the graph of in first quadrant (because area and dimensions of rectangle is non-negative) using graphing calculator as shown below.
Figure (2)
Observe from Figure (2) that function attains a maximum value when x is 1.63.
Substitute for x in and solve for y.
The length of rectangle for maximum area is,
Substitute for x in above equation
Thus, the length of inscribed rectangle is and height is .