Result used:
Slope of Perpendicular lines: The product of slope of the two perpendicular lines equal to –1.
Graph: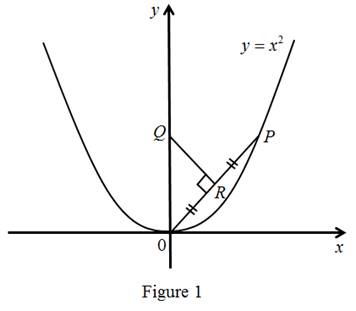 Calculation:
The perpendicular bisector of OP intersects the y-axis as P approaches the origin along the parabola then the length of the Q will increases and joins at a point R on the parabola.
Let R be the midpoint of , since then .
Let and from figure 1that is .
The slope of is
By the slopes of the perpendicular lines
(1)
Let , bet the two points then the slope of is
(2)
From equations (1) and (2)
In above equation if x approaches 0,
Thus the required limiting position of Q is .