Draw the figure of equilateral triangle as shown below.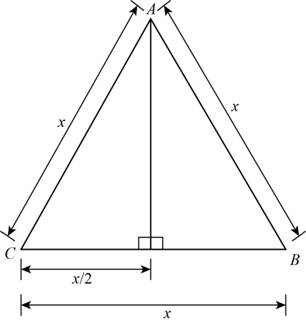 Figure (1)
Area of triangle is,
The length of side of equilateral triangle is .
In Figure (1) is median, it bisects so is .
Use Pythagorean theorem in triangle shown in Figure (1).
Substitute x for , for in above equation.
Subtract from both sides of above equation.
Take square root of above equation and switch sides.
Summarize the all the information as shown in table below.
| | |
| --- | --- |
| In Words | In Algebra |
| Base | |
| Height | |
Use the information in the table and model the function.
Thus, the function that models area of equilateral triangle is .