Chapter 2, Problem 8AYK
Tractor-trailer rigs often have an airfoil on top of the cab, as shown in ● Fig. 2.20. What is the purpose of this airfoil?
Figure 2.20 Air Foil See Question 8 in Applying Your Knowledge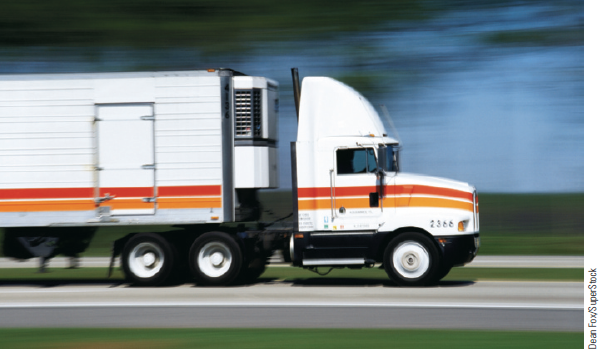 Expert Solution & Answer
Expert Solution & Answer
Expert Solution & Answer
Students have asked these similar questions
Describe the difference between someone who is accelerating and someone who is only moving at a constant velocity.   A person moving a constant velocity will 'feel' how fast they are moving. A person accelerating does not feel the acceleration. A person who is accelerating will 'feel' that acceleration, but the person moving at constant velocity will not feel the motion. Both of the above. None of the above.
It takes a boat 3 times to travel upstream against a river current than the time it takes to travel downstream. Ifthe speed of the boat is 40 mph, what is the speed of the current?a. 10 mph       c. 20 mphb. 30 mph       d. 40 mph
A train moves towards east with 95 km/h, while a car moves towards north with 60 km/h. What is the velocity of the train with respect to the driver of the car? 13000km/h 155km/h 112km/h 35km/h Please I need a surely answer and a quicker response
Your question is solved by a Subject Matter Expert
Want to see this answer and more?
Experts are waiting 24/7 to provide step-by-step solutions in as fast as 30 minutes!*
*Response times may vary by subject and question complexity. Median response time is 34 minutes for paid subscribers and may be longer for promotional offers.
8+ million solutions
Get access to millions of step-by-step textbook and homework solutions
Support from experts
Send experts your homework questions or start a chat with a tutor
Essay support
Check for plagiarism and create citations in seconds
Solve math equations
Get instant explanations to difficult math equations