Bacteriophage-Inspired Antibiotics Although bacteriophages have been infecting bacteria for billions of years, no mechanism, has evolved in bacteria to prevent the viruses from lysing the cell walls of their hosts. Now, scientists are targeting the same bacterial wall components that bacteriophages do. The goal is to develop antibiotics that bacteria will be less likely to develop resistance to. 
FIGURE 20.22 shows the results of a study to test Epimerox, a new bacteriophage-inspired antibiotic, against Bacillus anthracis, the bacterial species that causes the disease anthrax.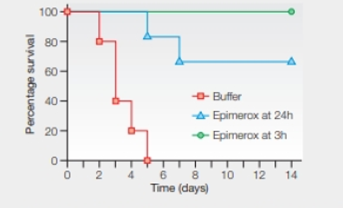 FIGURE 20.22 Effect of Epimerox on the survival of mice with anthrax. Mice were infected with the bacteria B. anthracis. One group of 15 then began receiving a drug-free buffer solution 3 hours later. Another 15 were treated with Epimerox beginning 3 hours after infection. A third group of 15was treated with Epimerox beginning 24 hours after infection.
How long did it take for all the mice that received the drug-free buffer alone to die? What function did this group play in the experiment?