Summoning Moaquitoes Parasites sometimes alter their host's behavior in a way that increase their chances of transmission to another host.
Dr. Jacob Koella and his associates hypothesized that Plasmodium might benefit by making its human host more attractive to hungry mosquitoes when gametocytes are available in the host's blood. Gametocytes taken up by the mosquito will mature into gametes and mate inside its gut.
To test their hypothesis, the researchers recorded the response or mosquitoes to the odor or Plasmodium-infected children and uninfected children over the course of 12 trials on 12 separate days. FIRGURE 21.18 shows their results.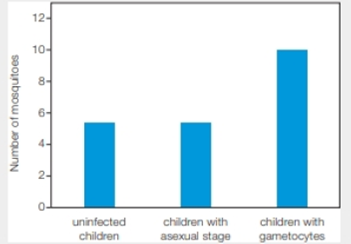 FIGURE 21.18 Attracting mosquitoes. The graph shows that the number of mosquitoes (out 100) attracted to uninfected children, children harboring the aseoual stage of Plasmodium, and children with gametocytes in their blood. The bars show the average number of mosquitoes attracted to that category of child over the course of 12 separate trials.
Did the data support Dr. Koella's hypothesis!