Welding joints are of five types:
Butt joint
Lap joint
Tee joints
Outline corner joint
Edge joint
Butt joint:
It is a type of welding in which the edges are welded. This do not increase the width of the metal. It has flexibility of being welded from both sides. Edges of metal are kept parallel for welding.
Lap joint:
In this welding, edges of the metal are overlapped to perform the welding operations. A fillet weld is used for performing lap joint. Welds can be performed on either side of the metal pieces.
Tee joints:
In this welding, the surface of one metal is placed over the surface of other metal. The angle between the parts to be welded is right angle. This welding is done by fillet welding.
Outline corner joint:
In this welding, a piece of metal is brought in contact by making an angle of 90-degree. Corners of edged are put together for welding.
Edge joint:
Even edges of two metals are put together by side to perform welding. These joints can be welded from one side only.
Types of welding can be seen in given figure.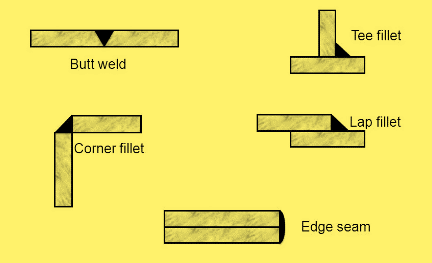 Fig: types of weld joints