Given information: consider the graph obtained in part a.,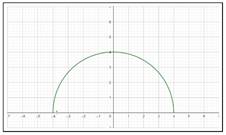 Calculation:
The domain of the function f is all the x-values of the points on the graph, and the range is all the corresponding y -values.
From the graph, the function cuts the y -axis at y = 4 and covers the graph till 0, therefore, the range is . The function covers the graph from to , therefore, the domain is
Hence, the domain from the graph is and the range from the graph is .