Fighting a Forest Fungus The honey mushroom, Armillaria ostoyae, is a parasite or living trees; it, withdraws nutrients from them. If an infected tree dies, the fungus continues to dine on its remains. Hyphae grow out from the roots of infected trees and from dead stumps. If these hyphae contact roots of a healthy tree, they can invade and cause a new infection.
Canadian forest pathologists hypothesized that removing stumps after logging could help prevent tree deaths. To test this hypothesis, they carried out an experiment. In half of a forest, they removed stumps after logging. In a control area, they left stumps behind. For more than 20 years, they recorded tree deaths and whether A ostoyae caused them. FIGURE 23.16 shows the results.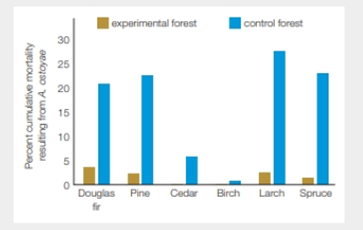 FIGURE 23.16 Effect of stump removal on the spread of a fungal pathogen.
The graph shows results of a long-term study of how logging practices affect tree deaths caused by the fungus A. ostoyae. In the experimental portion of the forest, whole trees—including stumps—were removed (brown bars). The control portion of the forest was logged conventionally, with stumps left behind (blue stars).
Looking at the overall results, do the data support the hypothesis? Does stump removal reduce effects of A. ostoyae?