Interpretation:
The products and chemical equation has to be written for the reactions of with (hydrogenation, in presence of a catalyst).
Concept Introduction:
Hydrogenation:
Palladium on carbon (Pd/C) is used as a catalyst for hydrogenation of alkenes and alkanes.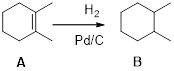 In general, an alkene undergo hydrogentaion reaction when it is treated with hydrogen gas. The addition of two hydrogen atoms takes place on the carbon-carbon double bond.