Sustainable Use of Horseshoe Crabs Horseshoe crab blood clots immediately upon exposure to bacterial toxins, so it can be used to test injectable drugs for the presence of dangerous bacteria. To keep horseshoe crab populations stable, blood is extracted from captured animals, which are then returned to the wild. Concerns about the survival of animals after bleeding led researchers to do an experiment. They compared survival of animals captured and maintained in a tank with that of animals captured, bled, and kept in a similar tank. FIGURE 24.28 shows the results.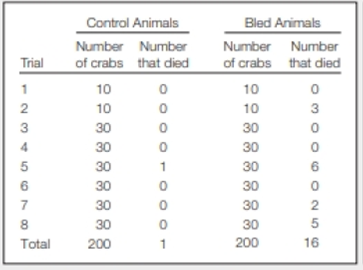 FIGURE 24.28 Mortality of young male horseshoe crabs kept in tanks during the 2 weeks after their capture. Half the animals were bled on the day of their capture. Control animals were handled, but not bled. This procedure was repeated 8 times with different sets of horseshoe crabs.
Looking at the overall results, how did the mortality of the two groups differ?