Interpretation:
The molecular geometry around the phosphorous atom in a phosphorothioate group has to be identified.
Concept introduction: In phosphorothioate group phosphrous atom bonded with surrounding atoms oxygen and sulphur as shown below.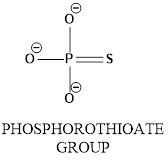 In the diagram shows at the centre with no lone pair of electron which are bonded with oxygen and sulphur.
Tetrahedral geometry: A tetrahedral has a central atom which is surrounded by four other atoms. In tetrahedral geometry the bond angle is .