Interpretation Introduction
Interpretation:
An expression for output voltage should be determined for the circuit shown below.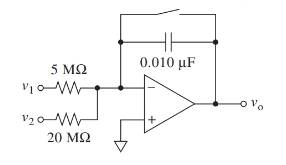 Concept introduction:
The given circuit represents an integrator. Here we have two inputs and the respective currents be . Since input current flowing into the op-amp is zero, we have the current flowing through the feedback loop, . Hence,
Expressing the currents in terms of input and output voltages in the expression gives the final output voltage.