Interpretation Introduction
Interpretation:
The given circuit is to be proved as a subtracting circuit when its four resistances are equal.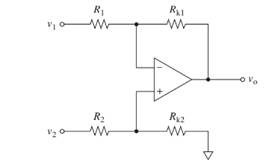 Concept introduction:
A difference amplifier configuration is here with two input signals applied at inverting and non-inverting terminals . We can write the general expression for the output voltage of the difference amplifier and then apply the specific case of equal resistances.